Presentation

Qadran, the Franco-Qatari economic circle, is an association under French law (loi 1901) created in 2015 on the initiative of the Qatari business community in France. At the crossroads of a think tank and a business association, this "do-tank" aims at reinforcing dialogue and synergies between French and Qatari business communities.
Qadran's roadmap can be defined as per three main missions:
Fostering a greater knowledge and understanding of France and Qatar's economic and business interests and of the bilateral strategic partnership, through the regular organization of content-rich events (webinars, roundtables, annual study, op-eds…)
Encouraging business synergies and the development of bilateral trade and investments between the two economic ecosystems through business delegations to Qatar or France and through high-level encounters between Qadran members and proeminent French and Qatari business and institutional personalities.
Bringing visibility to the actions of our members and the innovative projects they develop in Qatar or in France through proactive public relations initiatives and events.
Its governance is managed by several represntatives:
An honorary president, Omer Acar, who after two terms as president of the circle hands over to his successors while continuing to work for the strengthening of bilateral economic cooperation.
Two executive presidents for the daily administration of Qadran. These two management roles are now assumed respectively by Bruno Courtine, partner of the law firm Vaughan Avocats and Kamal Rhazali, General Secretary and General Counsel of the Luxury & Lifestyle division of the Accor Group.
Qadran presently counts +40 members, among which : some Qatari entities, some French companies with Qatari participation and some French companies operating in Qatar. Moreover, Qadran deals with tomorrow's economic leaders by establishing partnerships with renowned French institutions (think tanks, Grandes Ecoles, universities).
The unique composition of our circle, mixing different approaches, industries and experiences makes it a unique place where encounters and reciprocal exchanges have a central place in Qadran's activities.
A WORD FROM GOVERNANCE
Economic relations between France and Qatar have intensified considerably in recent years, and are today illustrated by a solid cooperation in a broad range of sectors (energy, construction, transport, logistics, the environment, tourism, etc.), in line with Qatar's economic diversification strategy outlined in the "Qatar National Vision 2030".
The 2022 Football World Cup is a perfect illustration of the dynamism of our bilateral partnership. French companies, already heavily involved in many of the country's major projects, have mobilized their know-how to make this major international event a success.
Beyond the traditional economic sectors, the vitality of cooperation between the two countries has extended to other emblematic fields such as culture, education and sports.
Created in 2015 within an already prosperous bilateral context, Qadran's mission is to promote friendship and dialogue between companies of both countries, foster understanding of mutual economic interests and encourage joint projects.
At the crossroads of a think tank and a business association, this "do tank" aims to establish a concrete and long-lasting link between Qatar and France, Europe's second-largest destination for direct investment from Qatar.
Following the World Cup and in line with the Qatar 2030 national vision, while Doha has been designated Arab Tourism Capital for 2023 and as innovation and energy transition are at the heart of mutual challenges, Qadran is pursuing its ambitious roadmap.
We are fully mobilized to support this new impulse and to catalyze synergies between the French and Qatari business communities.
Bruno Courtine & Kamal Rhazali, Executive Presidents of Qadran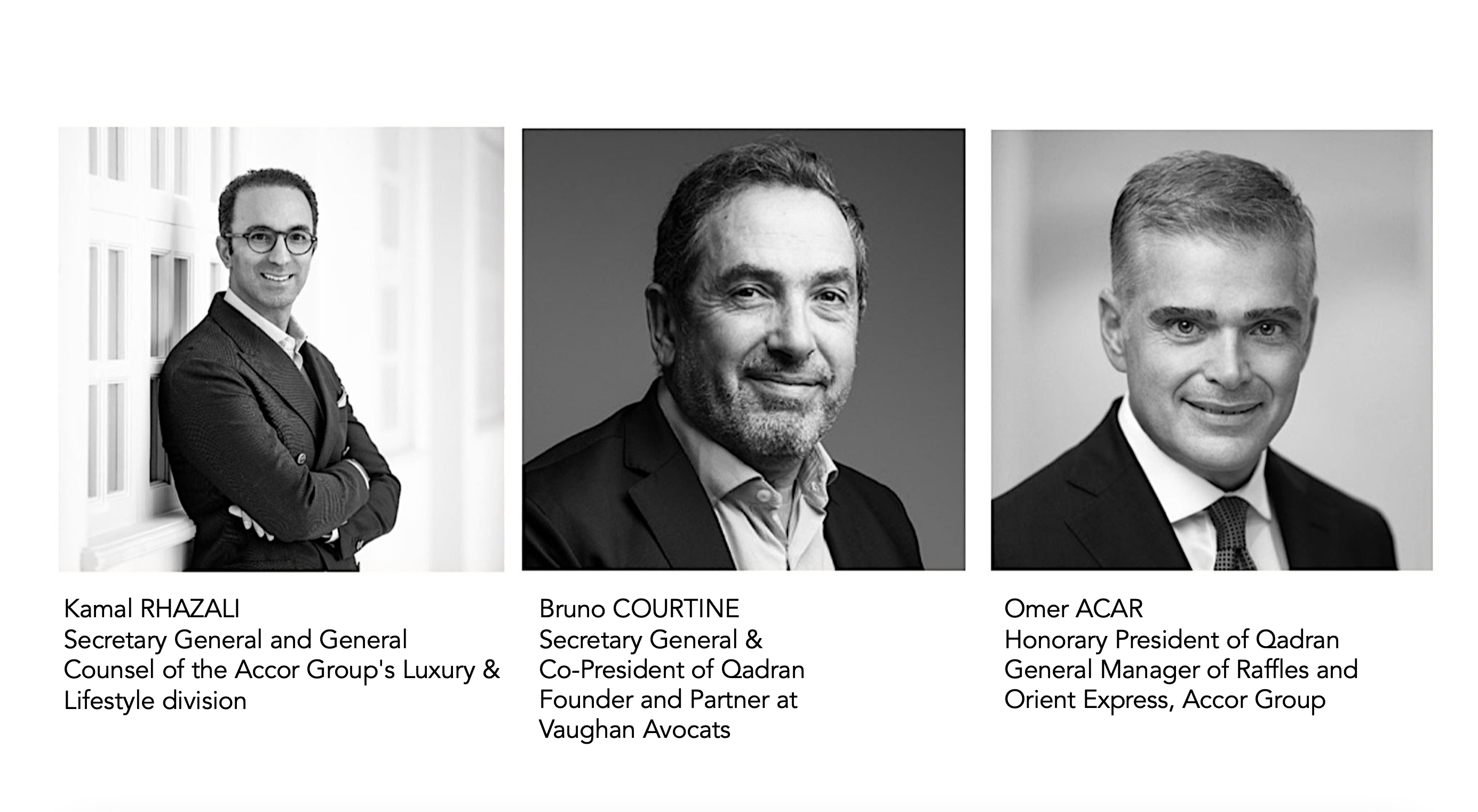 Members
QADRAN FOUNDING MEMBERS
---
QADRAN MEMBERS
QADRAN FOUNDING MEMBERS
Qadran's bureau is supported by a board composed of 5 Founding Members: the Embassy of the State of Qatar to France, Katara Hospitality, Qatar Airways, BeIN Media Group and Qatar National Bank.